Talking equality, motorsport, and Romanian roads with rally driver Cristiana Oprea
Plus how she decided to make a big career change and pursue her rally dream.
Welcome to the latest edition of Behind the Wheel. Today we're talking rallying with Cristiana Oprea. Not only has she had an exciting career so far but she's doing big things in Romanian motorsport, including promoting other female drivers who are making waves in the industry.
If you'd like to get each new edition of Behind the Wheel delivered directly to your inbox, you can sign up below.
---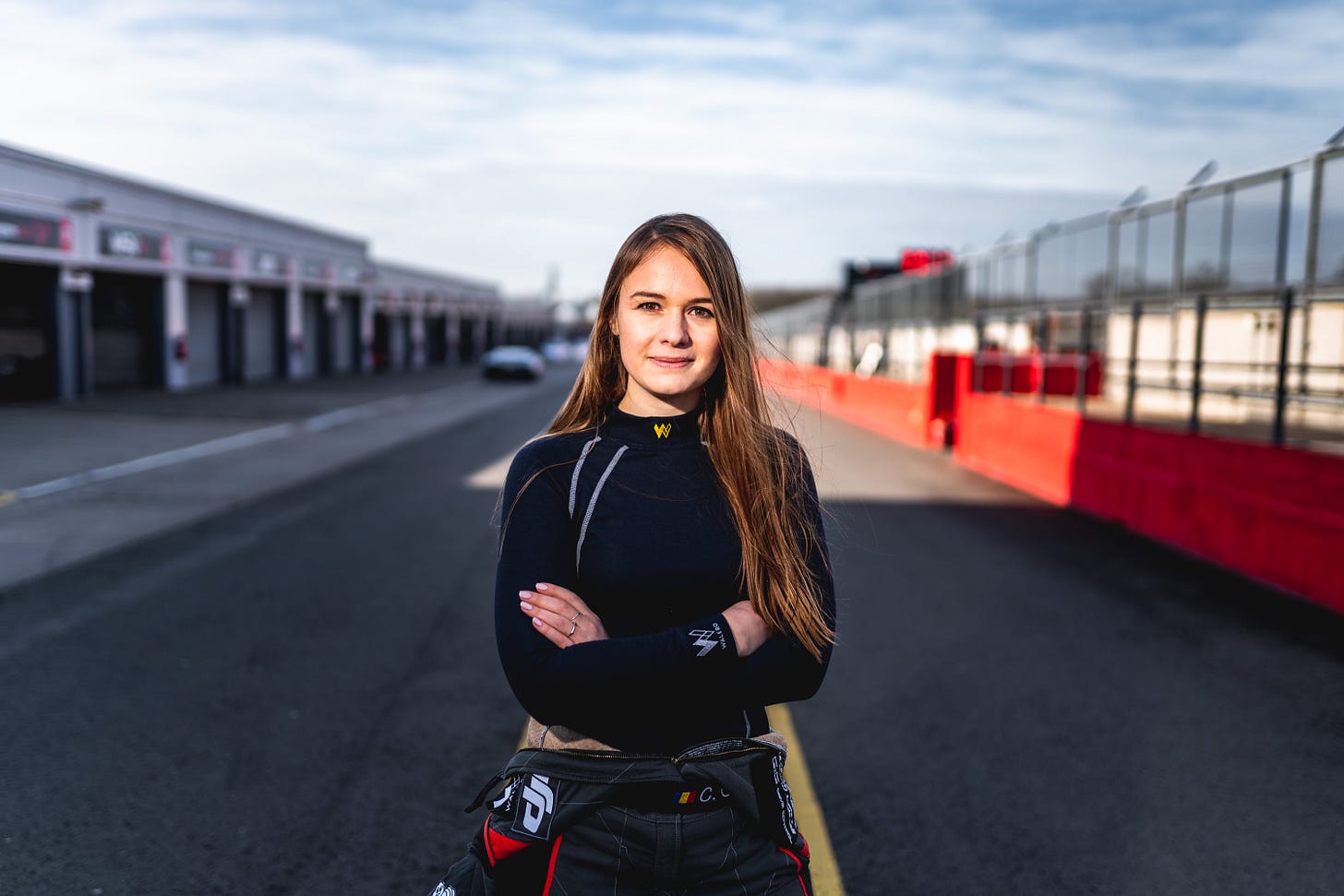 You got into motorsport a little later than most (like I did!), what got you hooked?
I was intrigued and seduced by the type of mental focus you need during rallies. Even though technical knowledge and physical training are important, rallying is very much a mental sport because you have to be prepared for anything, make instant decisions and improvise. I love that it challenged my limits. Before 2013, when I was invited to my first hillclimb event (as a guest co-driver), I had no idea motorsport existed and nobody in my family was following it in the media.
What made you decide to switch from architecture to motorsport?
To be honest, I loved the fact that it was hard - really hard - to get good results. I was fed up after all those years in university (studying both urban planning and architecture in parallel) because good grades seemed to come quite easy, even though the real-life job wasn't like that at all.
I finally decided I didn't want to work as an urban planner or architect because in Romania it's poorly paid in the first few years and the bureaucracy is a mess. So I started taking some PR courses, I launched a travel & lifestyle blog and then, just for fun, I wrote some stories about cars. I knew I'd found a niche so followed my instinct and I created my automotive and motorsport blog Emoticar.ro (which is also in English, if you're interested).
Then I searched for ways to improve my driving skills. I actually graduated Architecture in 2017, during my first rookie season in the Romanian National Rally Championship.
In the summer of 2015, I got a job as the PR of the Romanian Motorsport Federation, competed in my first rally as a codriver (I wanted to learn more about rallying so I could promote it properly; I was in one of the safety cars with Romanian legend rally driver George Grigorescu, who later became my mentor) and got hooked. I left the job after two months, became a motorsport PR freelancer, took my rally license and started racing.
What's the Dacia Sandero like to drive on a rally stage?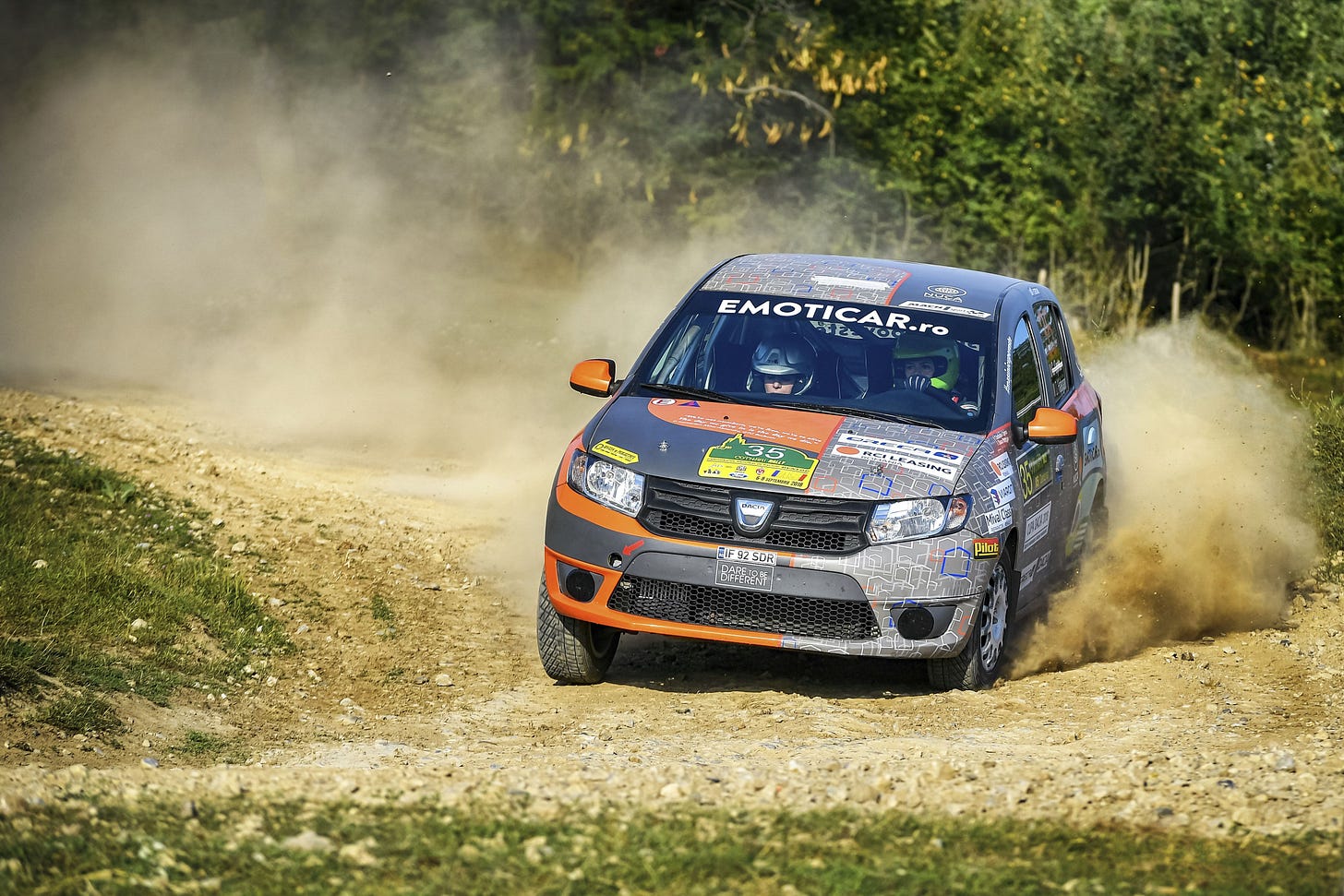 Cheap and fun. Well, not exactly cheap, but it is the cheapest way to start rallying at a professional level, which means being able to afford more seat time. It's front-wheel drive with not so much power, so it's a great teacher for rookies to carry speed on the special stages, learning the correct lines and braking points.
Tell us about the relationship between a driver and co-driver - how do you build and maintain trust?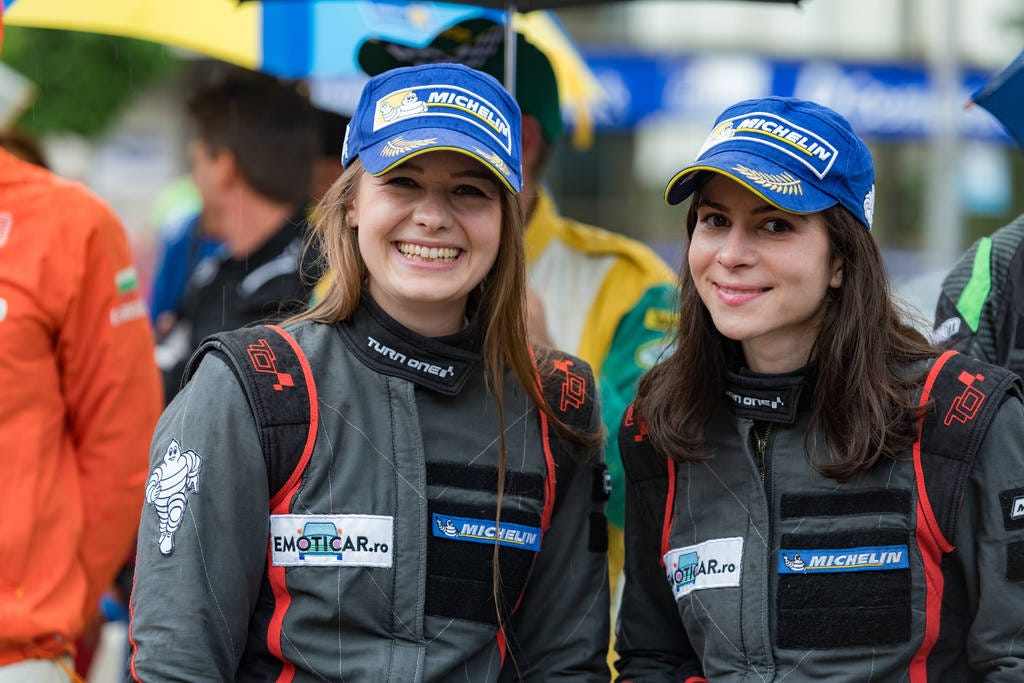 We have a saying that the relationship between a driver and a co-driver is sometimes more powerful than that of a husband and wife. I think the best way to build this is to start with friendship, because this makes it easier to trust each other and communicate easier. It's important to set some rules like "always say what's wrong" or "always check the regulations together", and also to clearly define the responsibilities each has to take.
I feel very lucky to have Diana by my side - she is a very good co-driver and we are also very good friends. She is passionate about rallying, organized, focused, determined, a good psychologist, and we share the same goals when we compete. She knows when to push and when to calm me down and she's definitely one of the reasons I was able to progress so much in these last few years.
During your motorsport career, you've had a lot of ups and downs. What have been the highlights?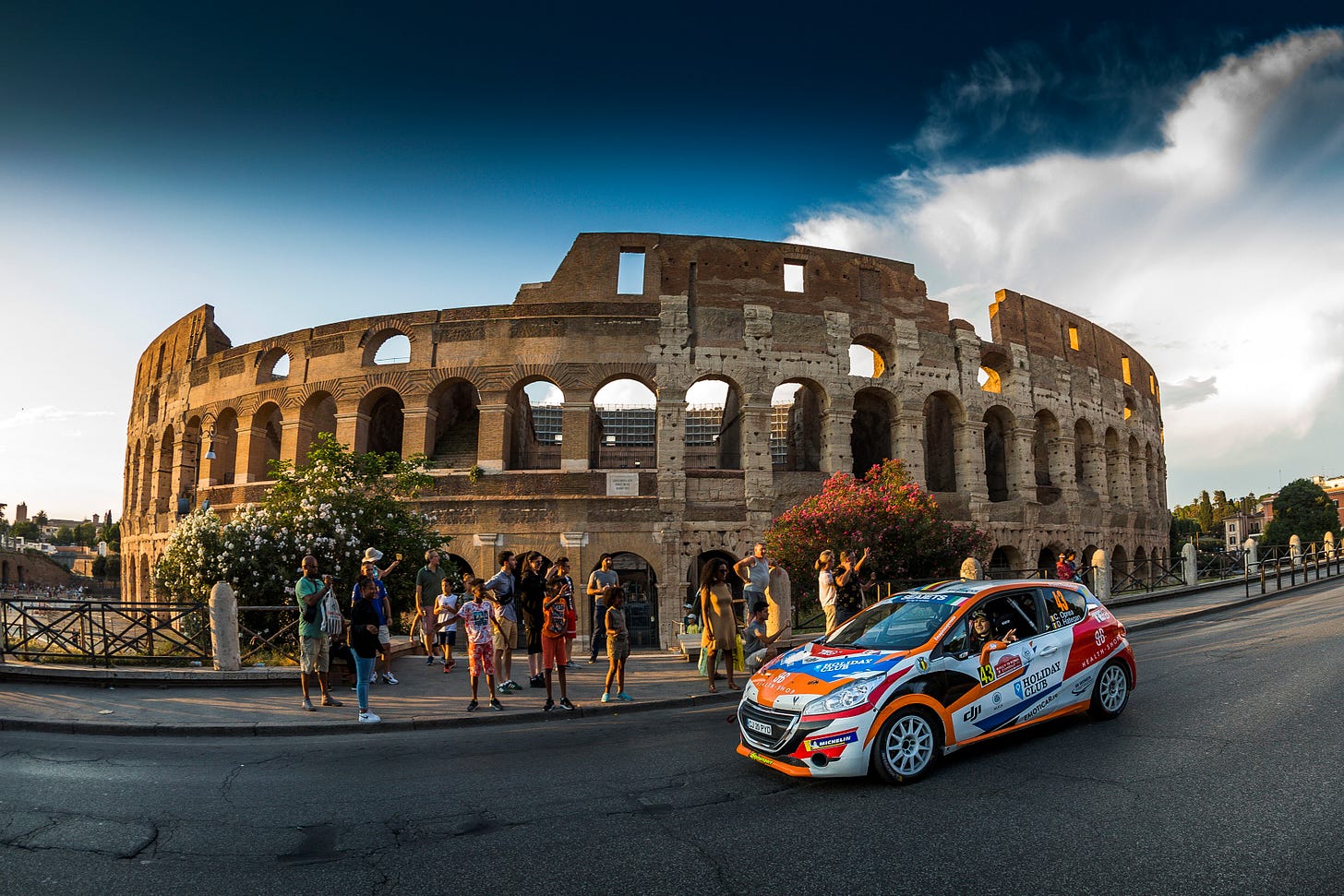 I've come to a point where I really appreciate all the small victories which often pass unnoticed. So, I think the highlights of my career so far are the following:
Finishing my first rally in March 2016, after very tricky conditions with snow, black ice, sun and rain - it's when I learned that last place can still feel like a victory, it was that or I could've crashed the Dacia Logan I was renting.

Completing a full season in 2017 with my brand new Dacia Sandero that I built with the help of my mother, and with all the money I earned in 2016

Becoming the first Romanian ladies rally crew in 50 years to compete in a foreign rally, at Rally Sliven in Bulgaria (together with Diana Hațegan, my codriver), in July 2018.

Fifth place overall in Dacia Cup in 2018, among the toughest competition there is because it's the entry-level of the Romanian National Rally Championship

My first podium in May 2019 and second place overall in Dacia Cup

First Romanian woman driver (and ladies crew) to ever compete in the European Rally Championship FIA ERC, at Rally di Roma Capitale, in July 2019. It was our first rally with an R2 spec race car and we managed to win the most points in the ERC Ladies Trophy standings at that event.
You can read all about 15 of my highlights in 2019 on Emoticar.ro, too!
And what have been the struggles?
The biggest is, of course, the financial struggle, which still exists, especially after this crazy pandemic. Motorsport is not that popular in Romania, where sport, in general, has poor support - so it's a tough challenge. 
I would say the second biggest struggle is self-trust because sexism and misogynistic behaviours are still very much at home in Romanian motorsport - it's hard to keep a positive vibe and focus on my own work when everybody feels they have to express their opinion about how I promote myself. For a few years, I was the only woman driver in the championship. I think I still will be in 2020…
Do you think motorsport is changing in terms of equality and how women are treated?
Definitely. Even though we are behind in this equality mindset, I feel the change whenever I compete in a foreign country. This is why my goal is to find the support I need to compete in the ERC - I feel safer and more respected as a driver, as an athlete. rather than because I am a woman and an "exotic" presence in the championship.
What challenges do you think women still face?
I feel that sometimes we have to work twice as hard to prove we deserve our seat. Even with pitching to sponsors, you never know how they'll react because, in our case, first impressions are so biased by social and cultural context and stereotypes. We are still seen as exceptions, but I think this will change through the power of example when there are more women active in motorsport.
You do your bit to promote other female racers in Romania, who should we be keeping an eye on?
I tried for four years to convince the Romanian Motorsport Federation that we need a project dedicated to women in motorsport. After no reaction, I decided to launch something on my own, so in March 2019 I launched Femei in Motorsport. It's a platform created following the FIA Women in Motorsport Commission guidelines and it's where I try to find and promote all the Romanian women involved in motorsport.
I would say you have to keep an eye on Ramona Rusu (drift driver, Queen of Europe 2014), Ștefania Băncilă (motocross rider), and Andrea Goga (Hard Enduro rider) - they all have international experience and some amazing results.
How does Emoticar.ro fit with your motorsport lifestyle?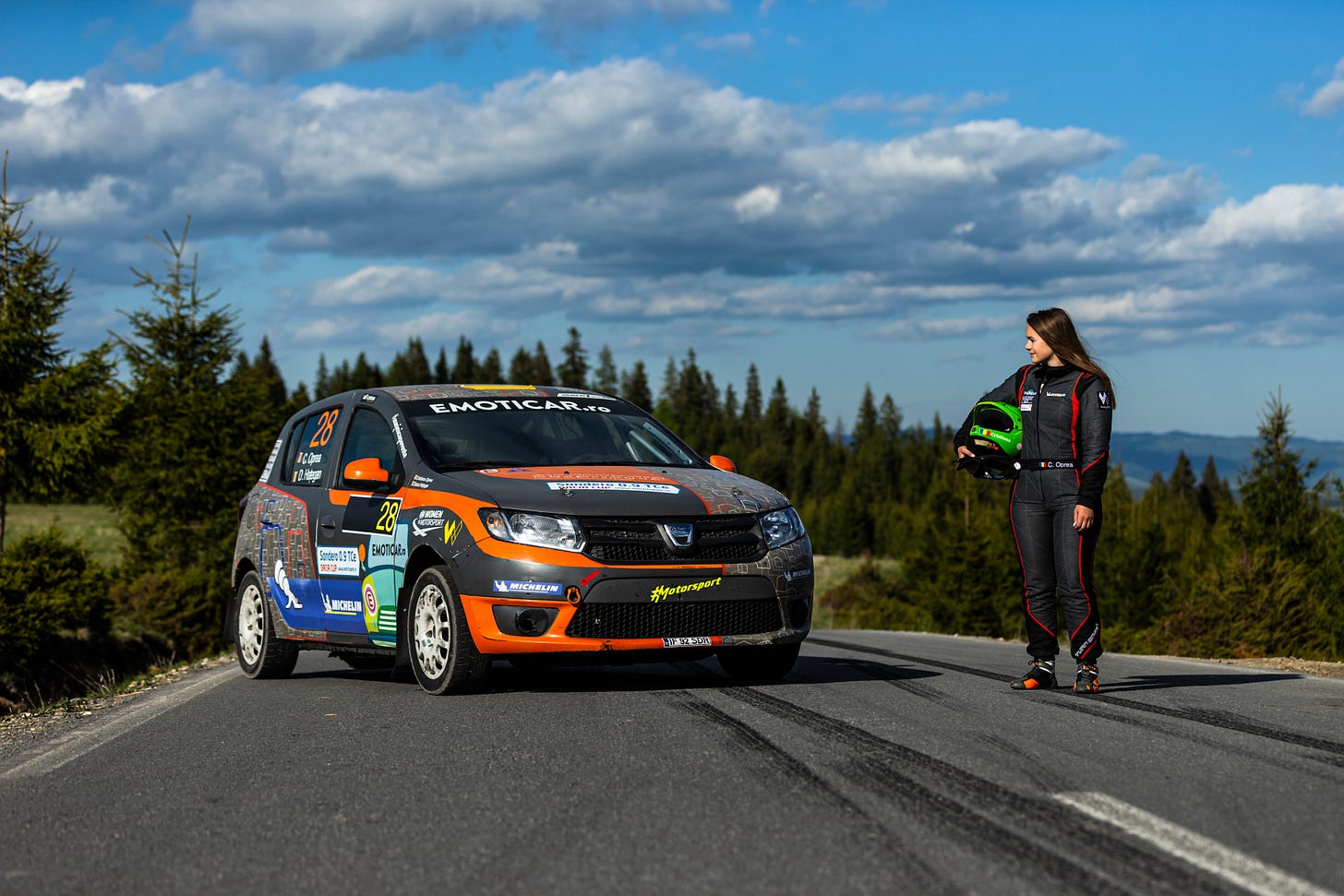 At first, it was more of a game, searching for my purpose. It quickly became a strong selling point for sponsors and now it's one of my main income sources because it's the base for all online content projects I do with various brands.
Still, it's hard to focus on creating content for social media or writing for my blog right before, during or right after a rally - as I always take my time to train, get in the zone and focus on my driving.
Do you have any advice for other women looking to get into motorsport?
Be brave and follow your dream! It won't be easy, but always keep that passion alive and surround yourself with two or three good people who will never judge you, and who can give you back the self-confidence and purpose when you lose them.
What does the motorsport landscape in Romania look like?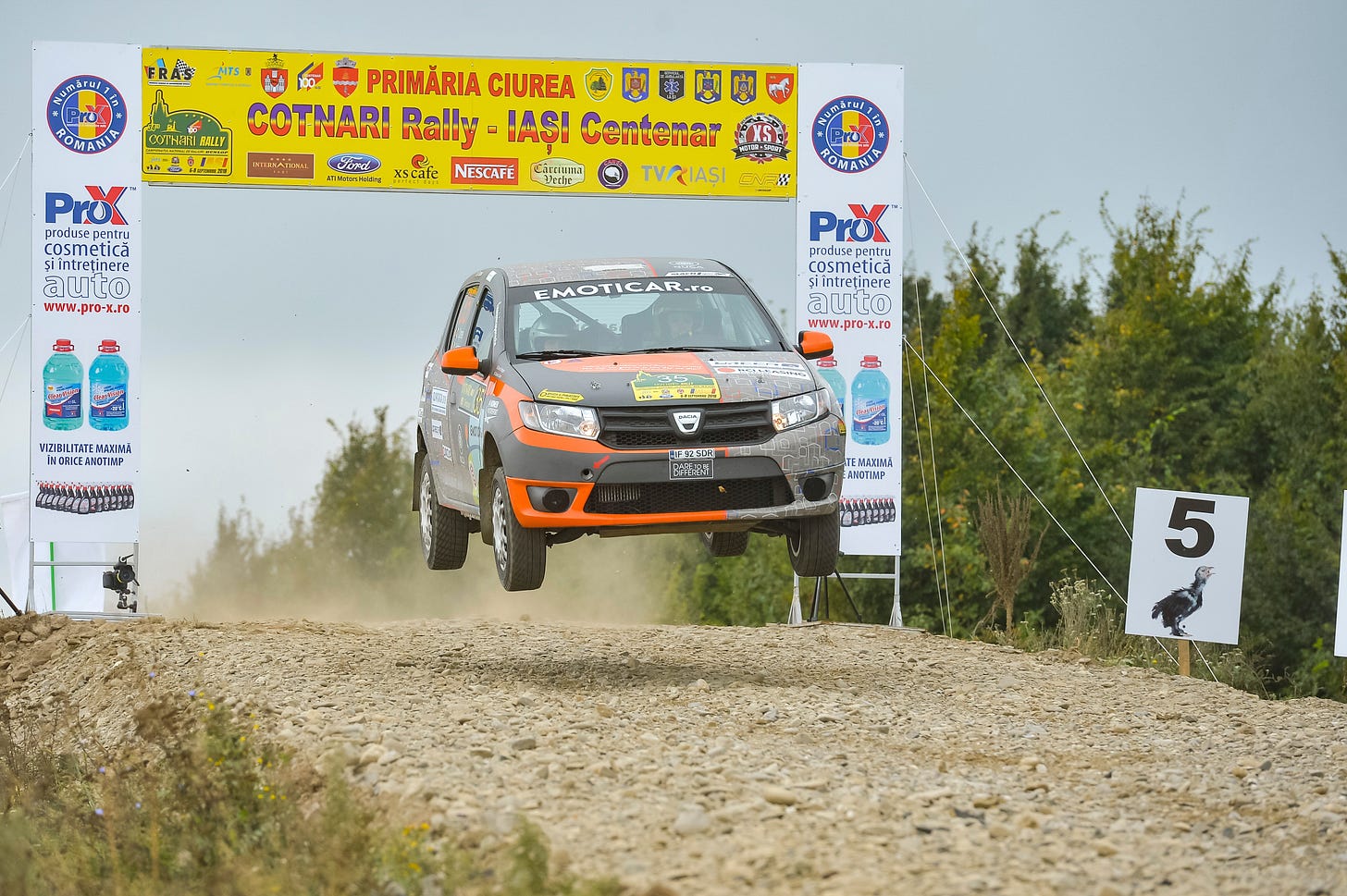 Most of the Romanian motorsport landscape (I would say 70%) is formed by rallying and hillclimb events - each one has a strong national championship. We have very few karting or regular circuits, instead, Romania has a lot of beautiful tarmac and gravel roads which, traditionally, have been used for events since before the '90s.
We have three or four amateur championships where people can compete with their road cars and we have some karting as grassroots motorsport. We also have a few cheaper championships like time attack, rally sprint or slalom, which also serve as a starting point for drivers who want to go up the ladder into the pro rally events.
Overall Romanian motorsport is evolving beautifully to fill in the gaps in the "ladder", but we still lack infrastructure and accessibility at a regional level.
We love road trips here at Behind the Wheel - Are there any incredible roads near where you live, or across wider Romania, that you recommend?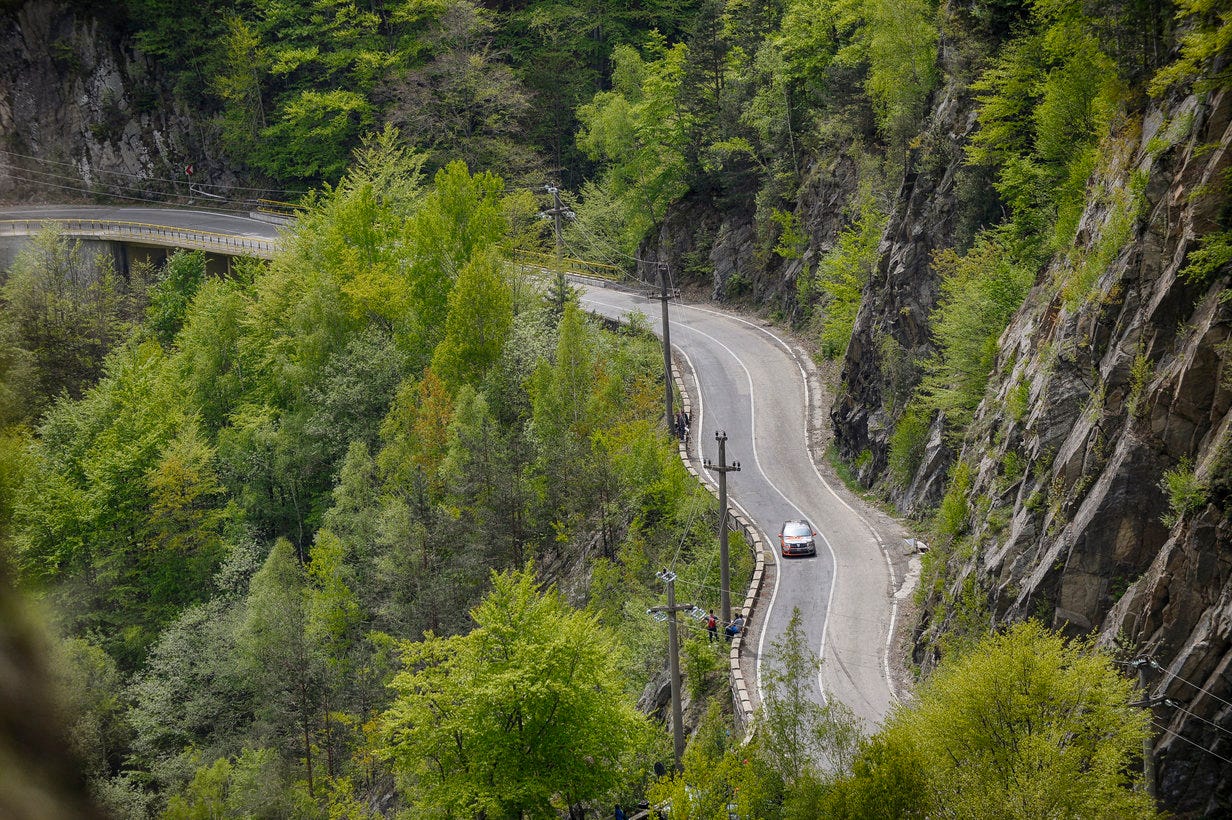 Transfăgărășan, above.
Our country is configured around the Carpathian mountains, so I would say the top three roads to drive are those which pass these mountains: Transfăgărășan (called the most beautiful road in the world by Jeremy Clarkson in Top Gear), Transalpina and Transrarău.
Anything else you'd like to add that we haven't covered?
I have to say a big thanks to my sponsors: Michelin Romania believed in me from the beginning and I am grateful our project grew so beautifully. Also, I can say Walero Motorsport UK changed my life in 2019 when they chose me to be their ambassador. They really opened up my perspective because I got the chance to meet some awesome drivers from all around the world, share our experiences and just open my eyes and see how motorsport should be.
Before I finish, I also have to thank my mom for supporting me all the way - she learned all about rallying and she is now my team manager. I couldn't have done this without her supporting me in whatever crazy ideas I had over the years!
Read more about Cristiana's journey on Emoticar.ro, you can also find her on Instagram, Twitter, Facebook and YouTube.
---
Behind the Wheel is put together by Jess Shanahan. It shares stories of people and their cars from all over the world. Please subscribe if you'd like to receive the next interview straight to your inbox. Or, feel free to reply to this email if you'd like to put your story forward for consideration.
Behind the Wheel is completely free to everyone but, as you can imagine, it's a hard time to be a creator. If you'd like to support this little publication you can:
Forward this email to a friend and encourage them to sign up.

Spread the word about Behind the Wheel on social media.

Buy me a coffee on Ko-Fi.
If you have something to say, you can get involved in the discussion over on Twitter. We'd love to hear from you.